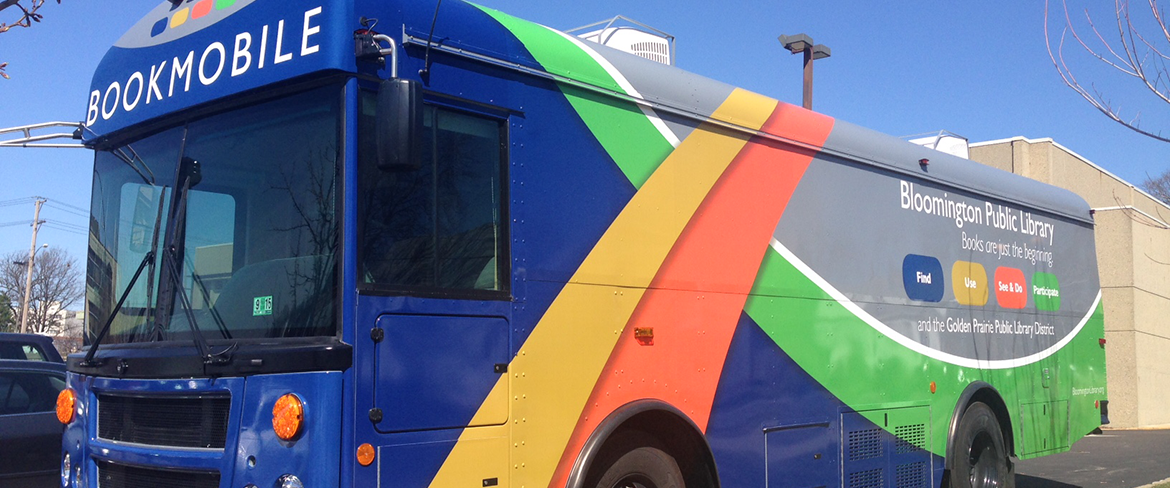 The Library offers Bookmobile services to residents of Bloomington and residents of the Golden Prairie Public Library District. A library on wheels, the Bookmobile makes 45-50 stops on a three-week rotation. At each stop, approximately 3,000 circulating items – bestselling fiction, nonfiction, large print books, audiobooks, CDs, movies on Blu-Ray and DVD, video games, and magazines – are available and can be borrowed by patrons.
The September 2023 - February 2024 Bookmobile schedule is available. 
Paper copies of the Bookmobile schedule are offered at the library and on the Bookmobile.
Bookmobile stops are also listed on the library's online calendar
An online map of Bookmobile stops is also available.
Yes! Visit bit.ly/bkmtxts to receive text reminders on the days the Bookmobile will visit your neighborhood.
Since the Bookmobile visits each stop once every three weeks, any item checked out from the Bookmobile is due back in three weeks, which should be the next time the Bookmobile visits that stop. (If a Bookmobile stop is cancelled for a holiday, maintenance, weather, etc., the loan will be extended by an additional three weeks.)
Yes. When placing an item on hold which you intend to pick up at a Bookmobile stop, choose "Outreach" from the dropdown menu when prompted to choose "pickup library". If you need assistance placing a hold, call 309.828.6091.
The "Shelf Location" of items in the Bookmobile's collection are labeled "Outreach" in the online catalog.
However, due to space constraints, the Bookmobile cannot hold all the items in its collection at the same time. If you're looking for a specific item and you want to make sure it's on the Bookmobile, either place the item on hold and designate the pick-up location as "Outreach" or contact library staff at 309.828.6091
Yes. Items listed in the library's online catalog as being housed in the main library can be added to the Bookmobile, and items listed in the catalog as being housed on the Bookmobile (shelf location "Outreach") can be checked out by patrons at the main library. This simply requires the patron to contact a staff member at 309.828.6091.
The Golden Prairie Public Library District includes most residents of the following townships: Arrowsmith, Bloomington, Dale, Dawson, and Old Town. The Golden Prairie Public Library District contracts with Bloomington Public Library.